Last night when I went over to 4 Silly Sisters, I noticed that MaryBeth had a little plug in for the Ultimate Blog Party, and "invited" her blogging friends to take part. Sooo, I thought why not?

Now, to be completely honest, I'm still not quite sure what it's all about (though the instruction page linked really helps!) According to the page welcoming everyone to The Ultimate Blog Party is "...a carnival for you to meet other mom bloggers, have fun and win prizes." OK, sounds simple and fun enough! I love that it's just for Moms :o)

I haven't had much time yet to really check it out, but hopefully I will within the next couple of days. I'd better get on the ball though - I'm already joining the 'party' pretty late in the game!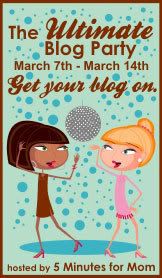 For those of you who have come over from the Ultimate Blog Party, welcome! And thank you for stopping by. Here's just a little bit about me (for those of you who already know all there is to know about me... Mom, Aunt Tan, K~, sorry!)

My name's Amanda Jill Fultz, I'm 25 and I live in southern Indiana... I'm happily married to my best friend and we have a beautiful daughter (who will be 1 next month!) I'm a stay-at-home mom, and I love taking pictures. Someday I really hope to make a career out of it.

I am a proud Christian! I've known Christ my whole life, but I haven't always lived for Him. I'm trying my very best to do so in every way, every day now though. I was just very recently baptized. I did wait a little later in life than some, but it was still such an amazing experience. It really meant a whole lot to me, and it always will.

I got in to blogging because of my Aunt... It's a great way to keep family and friends up on what's going on in my life, and with my daughter. I love putting updates up as well as everyday life stuff. I never write anything bad about anyone I know (personally or bloggily!) It's not a very Christian-like - even nice - way to be.

I love my friends and family. I have a wonderful family, and they're also my friends; I have amazing friends, so close they might as well be family! Though blogging, I have found a whole new world of compassion, interests, and friends. Who knows, YOU might be next on my bloggy friends list! Thank you all so much again for stopping by for a visit! Love to everyone out there and God Bless!